Joe Jonas and Charlotte McKinney Strip for GUESS' Underwear Campaign
by Zach Johnson |
It's not always about the clothes—sometimes it's about what's underneath.
GUESS has tapped DNCE singer Joe Jonas and model Charlotte McKinney to model its Spring 2017 underwear line, giving E! News an exclusive photo from the sultry campaign. "It's been a fun shoot," Jonas admits, "and my first time doing [an ad] in underwear, so it's pretty exciting."
To look his best for the sexy photo shoot, Jonas dieted and did "a lot" of boxing and cardio with his trainer. "She put me through the ringer," he admits. The 27-year-old "Body Moves" singer adds that stripping down to pose for Yu Tsai was a "fun," "exciting," "life-changing experience."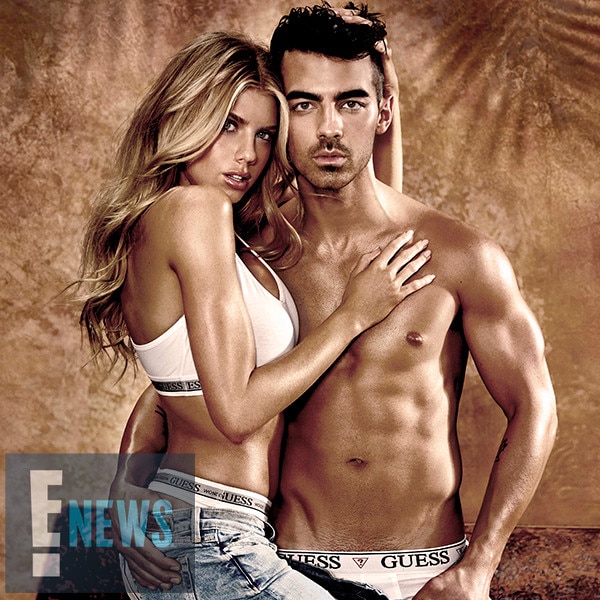 Photos
Joe Jonas & Charlotte McKinney's GUESS Underwear Campaign
Understandably, Jonas was a bit nervous to disrobe for the camera. "It can be a weird thing to be sitting there in your underwear being photographed," he reveals, "but overall I had a blast."
"Everybody on set was great," Jonas adds. "You feel comfortable."
McKinney remembers the fashion label's previous campaigns as "iconic" and "sexy," so she was elated to be working alongside Jonas for the new campaign. "Even though I've been doing this for four years now," the 23-year-old model says, "I still have to pinch myself coming into work."
Shooting for GUESS was a dream come true for Jonas, too. "They've always been an amazing, iconic American brand," the pop singer says, adding, "To be in the GUESS family feels good."
Tune in to E! News tonight at 7 and 11 to go behind the scenes of their GUESS campaign.